Map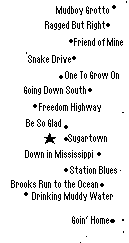 Community






Contribute


NMA YouTube Video
So You Want To Be A Psychedelic Sex Machine? &nbsp
-by Landoman855




Cody uses sewing thimbles to make his psychedelic sounds, but occasionally he experiments with other items such as microphones (very loud), fire (very hot), or (as seen here) drumsticks.
-photo by estory



First find a washboard for sale. A good durable one may cost under $20.


Once you have this, go to Radio Shack and pick up two piezo transducers. If you have an old guitar or can get an input jack, then you can wire the piezo to it. Connect the copper wires to the red wire of the piezo piece and connect the black piezo wire to the other red wire from the input jack. But first, read how to remove the piezo pickup from its black casing at the link below.

But for those who don't have an input jack, go Cigarbox.com and learn how to build your own. It's very informative and detailed in the directions, and you should have no problem building your transducer/input setup.

Then all you have to do after that is place the two piezo pickups firmly against a wood portion of the washboard and secure the other pickup to the metal part. Make sure the pickups are flat and flush against the washboard or else it won't make any sound. Then plug her in and she should work.





Quick Hits
---
Official Folk