Map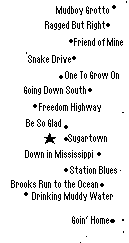 Community






Contribute


NMA YouTube Video
Drinking Muddy Water&nbsp...
fan contributions

This section of the grotto was made for contributions by the fans.




We are a combination of ages, races, and lifestyles. Some of us are musicians and some are not, some could care less about Mississippi while others care a great deal, and some play out miserable life experiences through the blues while others celebrate with some boogie. No matter who we are or where we come from, we all share a common interest that ties us together: the music of the North Mississippi Allstars.

Click on album reviews or recommendations written and suggested by those who love and respect the NMAs.

And if you are fan who'd like to join in and write a review, then email the Mudboy Grotto here. You can write a review of any album from the Complete Discography.


Quick Hits
---
Official Folk